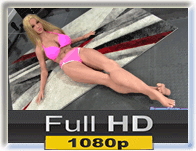 Format
MP4
Resolution
1920 x 1080
Duration
13:29
File Size
941 MB
Foxxy Doll
Knockout Overload
We are about to introduce to you something that has never been done in the scissor industry. When Covid hit, video production and sessions came to a halt due to health and safety concerns. ScissorFoxes was forced to think outside the box which got us to do things like the "Scissor Pillow Challenge" for charity, purchase videos directly from other couples, models and production companies from all over the world. Now we have partnered up with SEX DOLL America and SEX DOLL Canada to bring you a new concept that no one's even thought of. Meet Foxxy Doll. She stands at 5'6″, weighs 96 pounds and has a very fit physique. Her body is constructed of a TPE (rubber like) material over a steel skeleton. It's very grippy and very strong. To be quite honest, the scissors this doll produces are amazing. It actually feels real and the best part is you only have to make the purchase once and you can be scissored any time you want for as long as you want. You can also control the pressure by simply rotating the legs. The more you turn her knees inward, the more pressure you feel. Jay actually couldn't handle more than a couple of minutes on max pressure. You can also make it as light as you want by rotating the knees outward, letting you enjoy being trapped between the life like thighs for hours. Once you lock her ankles, it's practically impossible to pry her legs apart. The only way out is to unlock the ankles so if one wanted to, you can easily use a time lock to prevent any escape until the designated time is up. Be careful not to input the wrong time or you can be trapped for a very long time. This video adds a little fantasy to our scissor doll. Foxxy asks Jay (audio added in post production) to stick his head between her thighs but once he does, she warns him that without the access code, he cannot escape, something he should have read in the manual. She's also programmed to knock him out repeatedly and there's nothing he can do about it. He starts to panic, realizing that he might be trapped in there forever and does everything he can to pry her legs apart but it's helpless. She then goes into knockout overload, putting him out 11 times, many of them back-to-back. He begs her to stop but the doll has no remorse. Will he ever get out? Stay tuned and we hope you enjoy our first adventure with Foxxy. Feel free to email us if you have any questions about the doll. Enjoy!
Click on the name below to see all videos featuring:
Purchase for only
$

9.95
USD
~Instructions: Add one or more videos to your cart, view cart and pay, then log in HERE to download them to your computer. You do not have to be a member to purchase videos.
Click HERE if you are experiencing any problems.