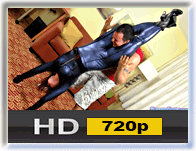 Format
MP4
Resolution
1280 x 720
Duration
21:27
File Size
555 MB
Nessie
Best of Nessie (Part 2)
Best of Nessie Part 2 is here, and it's even better than the first one! It includes knockouts, POV, cosplay, pantyhose and more neck breaks than you can imagine. Kicking it off as Black Widow, she flies into a handstand headscissor with perfect form. Her boots lock tight together, instantly turning his face red from lack of oxygen. We then go into a figure-4 challenge where she knocks him out in an airtight lock. She then takes care of a masked intruder who picked the wrong girl to mess with while wearing shiny pantyhose. Afterward, she pays a man to relieve her stress and take whatever abuse she dishes out. Dressed as a Trekky, she "persuades" her friend to join her to the convention, which is followed by one of her top-selling videos "Scissor Challenge 197" which includes hot POV and a KO. She breaks another guy's neck wearing pantyhose who wanted more than just scissors, but got more than he bargained for. As Leeloo, she pulls off the famous scissors from "Blade Runner". Under a trance, she's an unstoppable scissoring machine with no way to stop her. She then takes on 2 guys and humiliates them at a business conference by scissoring them at the same time and forcing them to speak to their wives. And for the big finale, Nessie ups the ante while assisting an escape artist. After tying him up, she locks him in a scissorhold and tells him to escape, or else she'll snap his neck. "I'm going to make this man disappear" she says right before breaking his neck multiple times with her big strong thighs. She truly is "the great and powerful Nessie".
Click on the name below to see all videos featuring:
Purchase for only
$

9.95
USD
~Instructions: Add one or more videos to your cart, view cart and pay, then log in HERE to download them to your computer. You do not have to be a member to purchase videos.
Click HERE if you are experiencing any problems.