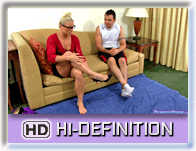 Format
MP4
Resolution
1280 x 720
Duration
13:07
File Size
297 MB
Sydney Thunder
CRUSH Therapy!
Sydney Thunder, the HOTTEST doctor from down under, is about to SHOCK the world with her groundbreaking treatment for claustrophobia! She calls it CRUSH therapy and it's NOT for the weak minded. It's actually so intense, some may not even survive! After her patient discloses his phobia and shares a terrifying incident of being trapped in an elevator, she makes herself comfortable, stripping down to her underwear and revealing one of the sexiest buff bodies that's graced this earth. His jaw drops to floor! Dr. Sydney convinces him that he must face his fears and without hesitation, she wraps her big muscular thighs around his head and starts squeezing until he's blue in the face. Her quads just bust out and inflate as she holds him there, bringing him to a new level of fear. After finally letting him go, she goes to stage 2 and puts him into another scissorhold and forces his hands behind him so that she can tie them together with rope. Now it's about to get REAL SCARY! Every scissor that she puts him in is tighter than the last. It's to the point that her patient desperately tries to buck her off but her thighs clamp down and she just stays on for the ride. She finishes her session with the most devastating reverse figure-4, which completely cuts off his ability to breathe or speak. He's engulfed in her muscles and has never felt more claustrophobic in his life. When she finally lets him go, there are no words to describe his face. She stands above him and flexes her beautiful muscles. First session of CRUSH therapy is over!
Click on the name below to see all videos featuring:
Purchase for only
$

8.95
USD
~Instructions: Add one or more videos to your cart, view cart and pay, then log in HERE to download them to your computer. You do not have to be a member to purchase videos.
Click HERE if you are experiencing any problems.