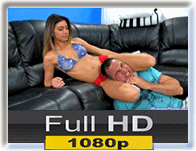 Format
MP4
Resolution
1920 x 1080
Duration
11:10
File Size
774 MB
Nikki Next
My Secret Scissor Fantasy
All of Nikki's videos are extremely brutal which is probably why she's one of our best sellers, but this…is NEXT level stuff! Nikki confides in her friend about a fantasy that she had in high school. She had a crush on a boy who resembles him and for some reason, always had the urge to stick his neck between her legs and SQUEEZE but never acted upon it! Without hesitation, she pulls his head towards her crotch and acts out the fantasy she regrets never doing in her high school days. Nothing could have prepared him for what Nikki was about to do to him. She gets him past the point of horrified and when he tries to tap out, she warns him that it only makes her want to squeeze harder. He learns this lesson very quickly when she doesn't stop until he gets knocked out. After this, he asks if they can stop, to which she replies: "My fantasy is finally becoming a reality and you want me to stop?". With that said, Nikki takes it up a notch and makes him regret his choice of words. The sheer terror she evokes on this grown man is beyond words. If he's not crying or begging to be released, he's being knocked out countless times. There's a total of 4 knockouts in Nikki's fantasy session, some more severe than others and a few close calls along the way. The best way to describe this video is "HOLY CR#P!!".
Click on the name below to see all videos featuring:
Purchase for only
$

9.95
USD
~Instructions: Add one or more videos to your cart, view cart and pay, then log in HERE to download them to your computer. You do not have to be a member to purchase videos.
Click HERE if you are experiencing any problems.