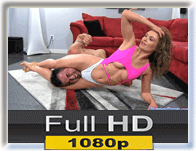 Format
MP4
Resolution
1920 x 1080
Duration
10:33
File Size
625 MB
Firestorm
Scissor Lightning Challenge 17
Firestorm has quickly become one of our most dangerous Foxes. This video has some of the most extreme panic we've ever seen. You just can't fake that kind of raw fear which Jay endures. The scary thing is how much you can tell she loves it. Even when he's yelling "I can't breathe!" or "Let me out!" numerous times or even giving her the "safety pinch", she simply ignores all of it and smiles while he hangs on for dear life. At times, it actually looks like she's trying to pop his head off! Between the developed muscles in her thighs and her perfected technique, she's turned those legs into weapons of mass destruction. Jay only has one minute to escape each scissorhold or feel the wrath of Firestorm's full pressure for a count of 10. What makes this challenge stand out from the rest is that she squeezes so damn hard the entire time that all he can focus on is trying to breathe rather than trying to escape. On top of that, if he can't survive the first part, how the Hell will he survive her full power? You can tell how shaken up he is throughout this whole ordeal. Firestorm also knocks him out in a reverse headscissor then again in her figure-4. True story: Jay was so scared and desperate to be freed from her reverse that he tried faking a KO so that she would let him go but it totally back fired. Not only did she not let go but she kept squeezing until he was really out. If you like loads of extreme panic, this video is definitely for you.
Click on the name below to see all videos featuring:
Purchase for only
$

9.95
USD
~Instructions: Add one or more videos to your cart, view cart and pay, then log in HERE to download them to your computer. You do not have to be a member to purchase videos.
Click HERE if you are experiencing any problems.