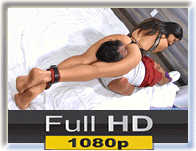 Format
MP4
Resolution
1920 x 1080
Duration
10:05
File Size
613 MB
Sadie Rose
Scissor SAW X
Our 10th annual Scissor SAW drops right on Halloween day this year, and this poor guy must face the lethal legs of Sadie Rose. Both of them are tied up in a dark room, awakened by Jigsaw, who informs them that only one of them will live and that they must choose. The pressure is on, as both try to wiggle themselves free from their bonds in order to get the upper hand. Sadie manages to snap the lock on her ankles using her leg strength. This spells big trouble for Jay, as his hands and feet are still tied behind his back. Sadie immediately wraps her python thighs around his neck. As she squeezes and tightens her grip, restricting his air, she tells him that there's no way he's making it out of this room alive. She is determined to live and with his neck deeply wedged between her strong thighs, it's just a matter of time. Sadie has one mean figure-4 headscissor and manages to knock him out, followed by a front scissor knockout. He's now realizing that she's not kidding around, and his last breath is just around the corner. In fact, Sadie repeatedly reminds him that this is the case. As the timer runs out, the voice of Jigsaw comes back and says, "I want to know if you have what it takes to survive". Sadie then prepares him for the final blow, snapping out her legs and breaking his neck (slow motion replay included). The steel metal door opens and Sadie is free to go after proving herself. Could you survive the Scissor SAW?
Click on the name below to see all videos featuring:
Purchase for only
$

9.95
USD
~Instructions: Add one or more videos to your cart, view cart and pay, then log in HERE to download them to your device. You do not have to be a member to purchase videos.
You can also purchase this video from
Important: The videos on the site(s) above may have been edited to meet their compliance regulations.
For more payment options or if you are experiencing any problems, please click HERE.