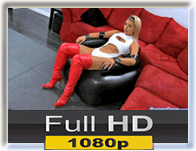 Format
MP4
Resolution
1920 x 1080
Duration
10:55
File Size
743 MB
Cali Kobra
Sweet Revenge: Stalker Trappers!
One would be foolish to think that you can trap a girl like Cali Kobra. Even though she may look helpless with her arms strapped to that bondage chair, it only takes her a split second to subdue her stalker. As he gets closer, her dangerous legs whip out to either side of his neck and just like that, he's in a worse situation than she is. She demands that he unstraps her and when he refuses, she gives him a taste of her squeezing power which immediately gets her what she wants. After being freed, she clenches him even tighter, knocking him out until the poor lad falls limp to the floor. Cali goes into the splits, pinning his neck beneath her and starts tying his wrists together. As he's waking up, he slowly starts noticing what is happening but it's too late. Cali now has him trapped and things are about to get nasty! Cali is determined to turn his head into the same shade as her red thigh high boots. With every constricting scissor, his face goes from red to purple. She certainly exceeds her goal but with those dancer's legs, it was bound to happen. After toying around with him and slowly breaking him down, she violently snaps his neck, assuring that he'll never come after her again. He should have known better than to try and trap a KOBRA!
Click on the name below to see all videos featuring:
Purchase for only
$

9.95
USD
~Instructions: Add one or more videos to your cart, view cart and pay, then log in HERE to download them to your computer. You do not have to be a member to purchase videos.
Click HERE if you are experiencing any problems.