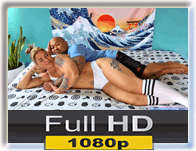 Format
MP4
Resolution
1920 x 1080
Duration
11:10
File Size
708 MB
KO Girl
Warning Knockouts
Many couples wrestle for fun or foreplay, but what happens if you give your wife or girlfriend a reason to be angry at you? What if she caught you talking to other girls? Can you imagine getting knocked out over and over again out of rage? Well, meet Kortney and Kris. While spooning on their bed, Kortney confronts him about other women she found on his phone. She slowly changes cuddle time into wrestling, pinning him down and interrogating him. His cockiness quickly turns into fear as she smothers his face and wraps her big thighs around his head. She's determined to make her point and her anger gets the best of her. She ends up knocking him out 3 times in a row. While trapping him in an anaconda like reverse figure-4, he goes out without her even noticing. As he's waking up, she switches her legs up and gets him in even tighter. Now this time she knows he's out as his body starts to shake. Now that's one extreme KO, but she doesn't stop there. She immediately puts him in a front headscissor off of the bed and purposely knocks him out again. He must now realize that these are just warning knockouts, and if he were to speak to other women again, he would not survive. While holding him in a schoolgirl pin, Kortney flexes her biceps and then reminds him: "There's only one queen in your life". Believe or not, this is our first video of KO Girl which features knockouts. Enjoy!
Click on the name below to see all videos featuring:
Purchase for only
$

9.95
USD
~Instructions: Add one or more videos to your cart, view cart and pay, then log in HERE to download them to your computer. You do not have to be a member to purchase videos.
Click HERE if you are experiencing any problems.