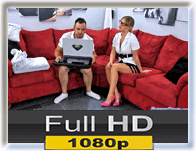 Format
MP4
Resolution
1920 x 1080
Duration
11:10
File Size
680 MB
Marissa Marshall
Work Affair: The Leggy Secretary
Most of us fantasize about getting squeezed mercilessly by a leggy secretary with fit strong legs. Marissa has some of the most amazing legs out there so it was just pure luck that her coworker accidentally showed her a picture of him and his wife wrestling. He tries to change the page on his laptop but she insists that he goes back to the picture. Sure enough, he's in a scissorhold so Marissa informs him that she also likes to wrestle and is excited to show him how strong she is. She immediately traps his neck between her big strong thighs and slowly starts removing items of clothing. By the end, she's wearing nothing but a sexy plaid bra and panty. Marissa has tons of fun with this, making him say that she's stronger than his wife numerous times and making him promise to take some of her shifts and bring her lunch everyday. The best is when his phone starts to vibrate while he's in one of her scissorholds. Marissa orders him to answer it and squeezes harder until he does. He struggles to converse with his wife. After all, he is being choked out. Finally, he manages to end the conversation but Marissa has a new idea. She takes several compromising pics of him with his phone and sends them to his wife. He is so shocked and embarrassed but there's nothing he can do about it. He is totally trapped. Marissa is finally ready to give him a break and let him go but not until she shows off her full strength. She warns him that it's nap time and knocks him out with a reverse headscissor. How much would you love to have this fantasy happen to you?
Click on the name below to see all videos featuring:
Purchase for only
$

9.95
USD
~Instructions: Add one or more videos to your cart, view cart and pay, then log in HERE to download them to your computer. You do not have to be a member to purchase videos.
Click HERE if you are experiencing any problems.